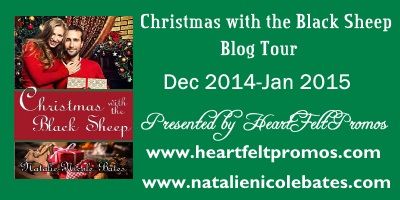 Blurb:
It's Christmas time, and Eriah Jameson has returned home to restart his family's business. Due to his wild child past, no one is friendly or welcoming to Barrow Haven's black sheep.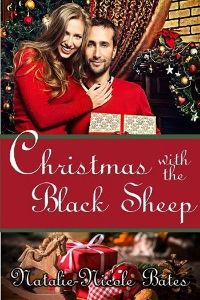 Aylin Myers lost her job when Eriah's father took ill. She knows Eriah needs her help getting his business up and running again, but she doesn't trust him. If he fails, she knows it will dishonor his father's memory. And Aylin knows that at Christmas, it's the right thing to help your fellow man—no matter how wretched he might be.
As Aylin gets to know Eriah, she sees a side of him Barrow Haven never saw. That perhaps the black sheep has changed for the better. Still, can she be sure this side of Eriah is real, and not just a facade he's perfected over time to get his own way?
Excerpt:
The black sheep of Barrow Haven was back in town. Tall, with dark hair that fell in waves to his collar, and blue eyes she couldn't help notice. He'd aged a bit, but she definitely recognized Eriah Jameson.
What was he doing in town? The last she heard, after causing a tornado of destruction, including robbery, assaults, and vandalism, he took off for parts unknown. His mother, who was always there to clean up her little boy's messes, remarried, and moved somewhere…Hawaii, she heard. As far as Aylin knew, for all of his troublemaking, somehow Eriah Jameson didn't have a criminal record.
"Did you graduate from Chase Academy?"
Sure, she thought. The Chase Academy, a twenty thousand dollar a year school for rich, troubled teens.
"I'm sure I've seen you before."
She crossed her arms over her chest. "Possibly you looked down when you were walking across the wet floor I'd just scrubbed at your father's funeral home.
His cheeks visibly colored. "I'm sorry, I—"
She waved a hand. "Forget about it." She really didn't want to speak with him unless he was a paying customer. "Can I help you with something?"
His eyes scanned the meager amount of goods still
available on display. "I have a step-sister I need to buy a Christmas gift for."
"How old? I don't know…fifteen, sixteen, maybe."
She selected a lace-covered vial of perfumed oil, uncapped it, and passed it to him. "It's called 'Winter's Warmth'.
He swiped the vial under his nose. "What are you're wearing? I can't help notice it."
"It's called 'Fairy Tale Fantasy.'" She placed her hands on the counter before her, and leaned closer to him.
He moved his face within a few inches of her neck, and she became acutely aware of his breath against her skin.
"That's absolutely lovely."
"I'm out of the fragrance, actually. I have more at my home workshop. I can create something special for your sister, if you prefer. You can stop by." She handed him a business card from a small crystal dish.
"Thanks." he looked at the card. "Aylin. What an unusual name. I'll…" He stopped speaking, his eyes fixed on her display of antique photography. "Is that my family's funeral home?" He pointed.
"It certainly is." She looked back at the turn-of-the-century cabinet card with a handsome man—presumably Eriah's great, great grandfather—standing in front of the newly opened Jameson Funeral Home. It was one of her favorite photographs of her collection, made more special since she worked for so many years at that particular funeral home. "I love it."
"Could I see it?" he asked.
Generally, she didn't let anyone touch her photographs— especially since he wasn't wearing appropriate gloves. But what could it hurt? In the spirit of Christmas, she would let him see the photo up close. She plucked it from the display and handed it to him. Just the admiration in his blue eyes as he looked at a piece of his family history, made it worthwhile.
"Can I buy this from you?"
So much hope in his eyes, and in his voice. She carefully extracted the photograph from his grip. "It's not for sale."
Before he could reply, a pair of hands, with long red fingernails, latched possessively around his arm. "Can we go now, Riley? I'm cold, and I need a drink. There's nothing worthwhile here."
Aylin hated when grown women used a baby voice to get their way. This one was tall, decked out in designer clothes, and made up like a Vegas showgirl. Aylin already despised her snotty attitude.
And she called him "Riley." His name wasn't Riley, she was sure. It was Eriah. She wouldn't forget an unusual name like that.
"I'm busy here. Could you wait a minute, please?" he asked the bossy blonde, obviously his girlfriend. She wore no wedding ring, and from the amount of jewelry dripping from her, she'd wear a rock on her finger as big as a baseball if they were engaged.
She stomped her foot, and her lips formed into an unflattering pink pout. "I want to go!"
He looked at Aylin, rolled his blue eyes, and mouthed the word 'sorry' to her.
She shook her head, and turned back to her display without another word. She hated having her time wasted, and these two were probably made for each other— vapid, spoiled, entitled, and arrogant.
She boxed up the leftovers of the day. Eriah left town years earlier, along with his bad reputation, and hadn't been seen since. Any shred of fondness for him by the people of Barrow Haven evaporated when he didn't bother to attend his father's funeral.
She shook her head again. Rich people.
Buy Links:
Author Bio:
Natalie-Nicole Bates is a book reviewer and author.


Her passions in life include books and hockey along with Victorian and Edwardian era photography. Natalie contributes her uncharacteristic love of hockey to being born in Russia.


She currently resides in the UK where she is working on her next book and adding to her collection of 19th century post-mortem photos.
Visit Natalie-Nicole Bates Online!
a Rafflecopter giveaway